How Can I Get my Child an Autism Service Dog for Free?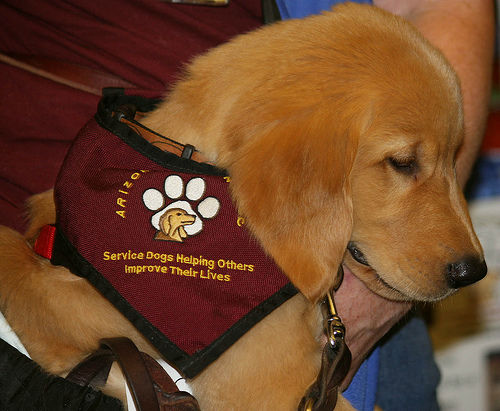 You may or may not have heard of the many benefits of service dogs for individuals with Autism Spectrum Disorders. Autism service dogs can soothe by providing emotional support without judgment, they can help stop self-stimulatory behaviors, prevent their charge from wandering, help them sleep at night, and much more. The training that these dogs receive is extensive and often tailored to meet the particular needs of the individual, and therefore, obtaining one for your child can be expensive.
How much does an autism service dog cost?
Autism service dogs are available from many organizations, and prices can range from $5,000 to $25,000! For most families with one or more child on spectrum, paying this amount of money can seem impossible. Luckily, there are a few different types of programs out there that can help.
An internet search for "Free Autism Assistance Dogs (your state)" will bring up any program in your state that provides autism assistance dogs free of charge. These programs may have certain requirements that clients must meet, and there is usually a 2-3 year waiting list for the program.
There is also the option of applying for grants, either through non-specific or autism-specific organizations. You can find many resources for grants with an internet search. A great list of these organizations can be found at autismassistancedog.com. Some organizations listed include Canines for Disabled Kids, Medicaid, the National Autism Association, and Autism Speaks. Applying for grants can be a tedious and overwhelming task, as there is so much information required on the applications, but it is definitely worth the time and effort.
You can also host fundraising events in your community, like bake sales, spaghetti dinners, yard sales, and so on. If you have connections through your religious or other community organizations, use them to get the word out about your events. You may consider speaking at your local Rotary or Lions Club, for example. There is also the option of soliciting company sponsorships, and don't forget your family and friends.
Personal fundraising sites like GoFundMe and firstgiving.com are another option. These sites let you create your own web page about your cause and connect to social media. Speaking of social media, another great way to raise awareness about your fundraising efforts is by creating a Facebook, twitter, Tumblr, Instagram or other social media account dedicated solely to this purpose. You can use these to update your friends and followers about your progress and to alert them about upcoming events.
If you can not find a program that will provide your loved one with a service dog free of charge, using one or more of the fundraising methods mentioned above can help raise the money you need to purchase one. Because it takes time to train these special dogs and most organizations have waiting lists, you should have ample time to raise funds.
Written By,
Bobi Jo Nelson
Check out some interesting articles:
1). Are there any benefits of weighted blankets for ASD?
2). Questions to ask when picking a best school for your autistic child
3). 20 best iPad apps for children with autism