Toni Braxton rose to fame in the nineties as a singer and actress.  It wasn't long before she married and had children.  Probably what Ms. Braxton didn't expect when she mapped out her dream life was that her son would be diagnosed with autism.  She did what most mothers do when they hear that their children are different in some way from other children.  She became an advocate for her son and for autism in general.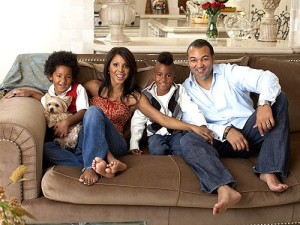 Her son, Diezel, was diagnosed in 2006.  The boy was three then, and would be nine now.  Doctors wouldn't acknowledge or help her understand what was going on, but a public program in Vegas analyzed Diezel and finally told Toni what she needed to hear.  Diezel had autism and had all of the earmarks for it, right down to never making eye contact and having very focused and obsessive behaviors.  Her first son, Denim, was fine, so Toni had no indication or previous experience with autism to even begin to understand what it was.
About six months later, the organization known as Autism Speaks, designated Toni as their new spokeswoman because of her real life connection and life affected by autism.  Toni continues to speak out for more research, more public awareness, and more opportunities and hope for at least an understanding of what causes it if not a cure or preventive measure.
Toni Braxton regularly performs for Autism Speaks benefits around the country now, but because her sons are her main concern, especially Diezel, she tries to stay with them and spend as much time as possible with them.  She promotes all the programs and resources that Autism Speaks provides for fiscally disadvantaged families that have at least one child on the spectrum.  Her work continues and her touring schedule for Autism Speaks can be found on her personal website and Facebook pages.
Famous people like Ms. Braxton, and not so famous but everyday people will encounter autism on some level in their lives in the next twenty years.  Its increasing rate of diagnosis will not leave a single life untouched, and that is the message Ms. Braxton carries with her everywhere she goes.  If it isn't your own child, it might be a cousin, a niece, a nephew, your best friend's daughter, or maybe your fifty year old aunt who was diagnosed with it for the first time since she was placed in a group home as a young adult.  Retro diagnoses for adults are now happening just as often as current diagnoses for children, as doctors realize autism isn't just a now thing, but it's been here all along.
Toni Braxton was just as shocked as most parents are at finding out one or more of their children have ASD.  Once we shake off the shock and finish the tears of uncertainty, we are moved, no, compelled, to act on our children's' behalves.  The love we feel for our children doesn't stop when the diagnosis of ASD starts, as Ms. Braxton found out.  It only grows stronger and motivates us to do all we can to help them.
Commom Queries:
1). What are the early signs of autism in babies?
2). What to do if you discover your child has autism?
3). Why do autistic children scream?
4). Can autism be treated with medication?
5). Famous people diagnosed with autism