Risperidone or Risperdal: An Antipsychotic Drug for Autism, ADHD, Schizophrenia, and Bipolar disorder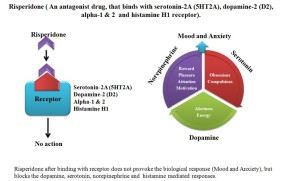 Antipsychotic drugs
Over the past 25 years, Antipsychotic drugs have been ever increasingly in use for the treatment of children and young people with a range of psychiatric conditions and symptoms. These include pervasive developmental disorders (such as autism); attention deficit hyperactivity disorders (ADHDs), disruptive behavior disorders, bipolar disorder, schizophrenia and behavioral symptom (i.e., violence, anxiety, irritability, self-injurious nature, and sleep disorder). Antipsychotic drugs are basically classified into two classes: First generation antipsychotics (FGAs) and second generation antipsychotics (SGAs). In the 1950s, the First generation antipsychotics drugs were developed. First generation antipsychotics drugs were renowned as "typical antipsychotics," and comprise clozapine, chlorpromazine and haloperidol etc. The use of FGAs are associated with several complications such as dry mouth, sedation, extra-pyramidal symptoms, reduced life expectancy, tardive dyskinesia, neuroleptic malignant syndrome and importantly permanent chemical dependence. A shift toward fewer adverse effect and higher effectiveness/efficacy necessitate the invention of second generation antipsychotics also branded as "atypical antipsychotics." The second generation antipsychotics emerged in the 1980s and have shown greater relative effectiveness as compared to existing antipsychotics. The use of SGAs was partly driven by their lower risk of extra pyramidal symptoms, but associated with serious adverse side effects. Typical examples of SGAs include olanzapine, paliperidone, quetiapine and risperidone etc.
Risperidone and FDA
In the year 1993, Risperidone was first approved as a drug for the short term treatment of schizophrenia in adults by Center for Drug Evaluation and Research, United States Food and Drug Administration (FDA). In view of the effective neurotransmitter antagonism, risperidone in 2003 was also permitted for the short-term management of adult with severe manic and mixed phase accomplice with acute mood swing (bipolar disorder). In 2006, the drug also got approval from FDA for symptomatic treatment of irritability in autistic patients (children and adolescents). Other major advances in use of risperidone came in year 2007, when the risperidone was certified as the available solitary drug agent for treatment of schizophrenia in adolescent patients between 13–17 of the age. On the same day the risperidone was also approved for bipolar disorder in children and adolescents between ages of 10-17. This was the great day in the history of risperidone, and it became first FDA approved atypical antipsychotic drug for pediatric use to treat patients in this age group. Risperidone is formulated and available as oral solution, tablet, as a depot injectable ampule and wafer known as Risperdal M-Tabs (United States and Canada) or Risperdal Quicklets.
Risperidone role in medicine
Risperidone (generic/trade name Risperdal or Ridal or Risdone or Rispolept) is a second generation antipsychotic agent. It acts on a variety of receptors including, dopamine receptors, serotonin receptors, alpha α1 adrenergic receptors, alpha α2 adrenergic receptors and histamine H1 receptors. It provides first line choice for the treatment of psychotic disorders (based on severity of illness) either alone or in combination of mood stabilizers (Such as Lithium, carbamazepine and valproic acid) based on severity of illness. The pharmacological basis of popularity of risperidone over first generation counterparts like haloperidol was its relatively lower tendency to induce extra-pyramidal side effects.
Risperidone is a well known and widely prescribed antipsychotic drug for the medication of schizophrenia and bipolar disorder in children and adolescents. From past to present, as a monotherapy (as in schizophrenia) to both  monotherapy and combination therapy (as in pediatric bipolar disorder), it has been found to be highly effective and safe. According to one recent study, conducted using the publication databases (i.e. PubMed, Medline, EMBASE, and Psych) and abstracts and annual meeting of various Psychiatric Associations, risperidone as a highly promising drug in treatment of patients with schizophrenia and bipolar disorder according to various rating scales such as YMRS, BPRS, and CGI.  Similar to other atypical antipsychotics, risperidone is also used for off-label applications such as treatment of anxiety disorders (i.e. obsessive-compulsive disorder, Childhood anxiety disorders), tourette syndrome, and disruptive behavior disorders etc.
A large number of clinical studies demonstrated that risperidone is found to be efficacious in the pharmacological treatment of behavioral symptoms allied with autistic children, adolescents, and adults. The multisite, double-blind, placebo-controlled investigations published in New England Journal of Medicine (2002) demonstrated that risperidone treatment provides a positive response for tantrums, self-injurious or  violent behavior (irritability) in  autistic children between  5 to 17  age group. This study later guided FDA approval of risperidone for the treatment of irritability in autistic patients. After, that a large number of randomized clinical trials and studies observed that risperidone treatment is safe and limiting in temper irritability, repetitive movements, hyperactivity, stereotyped behaviors and also effectual in improving social interactions. Besides this, increased relapse rate was also observed in several studies after discontinuing risperidone in children with autism spectrum disorders. Instead of monotherapy, combination therapy of risperidone with parent management training was found to be more effective in autistic children in age group between 4 to 13 years. The first clinical trial on adult was conducted on 11 individuals between 6 to 34 years age group and demonstrated quite effective betterment in explosive aggression, self injury and poor sleep hygiene. Subsequently, a double-blind, placebo-controlled studies on 31 adults of age group 18-44, observed risperidone remarkable to placebo in diminishing irritability, aggression,  anxiety and depression and repetitive behaviors.  Long term study in a cohort of forty subjects with mental retardation and autism spectrum disorder illustrated a 50% reduction decrease in the ABC irritability subscale score with a 60% response rate. In short, risperidone found to promising effective and safe for treating maladaptive behaviors.
Apart from this, literature studies and clinical reports suggest a promising role for risperidone in management of attention-deficit hyperactivity disorder (ADHD) symptoms. Risperidone has been reported to associate with clinically and statistically significant improvement in children with disruptive behavior disorders and sub average intelligence. According to Aman and coworkers, risperidone therapy shows a significant improvement in symptoms of hyperactivity in ADHD patients. Similarly, treatment of risperidone in ADHD children with moderate mental retardation was as effective as methylphenidate for ADHD symptoms. Furthermore, studies by Eapen and coworkers reports a positive clinical response in a cohort of children suffering from ADHD, disruptive behavior disorders and aggression. These studies are in agreement with the recent studies conducted at Pediatric Psychopharmacology Research Department, Massachusetts General Hospital, Boston, MA, USA by Biederman and coworkers. They observed noticeable improvement in ADHD symptoms of inattention, agitation and hyperactivity.
Mode of action or pharmacodynamics
The major cause of psychotic illness is disturbances in the activity of neurotransmitters in the brain. Risperidone primarily works in the brain, where it affects various neurotransmitters, in particular dopamine and serotonin (known to be involved in regulating mood and behavior). The main chemical moiety in risperidone is benzisoxazole, which has strong antagonism for serotonin-2A (5HT2A), dopamine-2 (D2), and alpha-1 receptor. Risperidone also act as a substrate of cytochrome-P450 (CYP450) 2D6 and CYP3A4 and also inhibit these two metabolic enzyme systems. The clinical effectivity of risperidone relies mainly in its potent serotonin-2A and dopamine-2 antagonism in the cerebral cortex and mesolimbic dopamine pathway.
Adverse effects of Risperidone
Clinical studies conducted on a large number of subjects indicate a diverse range of  side effects such as weight gain, sleep problems, fatigue, hyper-salivation, constipation, stuffy nose, emotional accountability, anxiety, sedation, muscle stiffness, muscle pain and tremors following risperidone treatment. In addition, risperidone treatment causes photosensitivity besides other skin conditions including rash, xerosis (dry skin), acne vulgaris, alopecia (hair loss), skin hyperpigmentation and seborrhoea. The blocking action of serotonin and dopamine produced by risperidone causes irritability, aggression, sleep and eating disorders. Neuroleptic malignant syndrome and tardive dyskinesia, have also been reported with risperidone. Majority of studies indicate the relationship between severity of adverse effect and the dosage of the drug. At low dose, side effect is low, whereas at high dose the propensity of side effect increased.
The effect of risperidone and other anti psychotic drugs on neurobiology of development in term of developing brain remain unexplored and further research is warranted to elucidate these aspects. The gathered clinical data suggests a wide range utilization of risperidone along with other pharmacologic agents in pediatric and adolescent populations for the treatment of schizophrenia, bipolar disorder and behavioral disturbances in autistic patients. Beside this, an urgent need for future studies to address the long term follow-up and discontinuation of risperidone (for long-lasting lifetime disorders) is demanding. Guidelines for pharmacological trials, safety and efficacy of treatment, dosing for pre-school children are among other area for careful monitoring by the concerned authority.
Suggested literature
McDonagh, M., K. Peterson, et al. (2010). Drug Class Review: Atypical Antipsychotic Drugs. Complete review. Pubmed health.
Orange Book: Approved Drug Products with Therapeutic Equivalence Evaluations. Food and Drug Administration. April 2007.
McCracken, J. T., J. McGough, et al. (2002). "Risperidone in children with autism and serious behavioral problems." N Engl J Med 347(5): 314-321. Abstract
Shea S., Turgay A., Carroll A., et al. Risperidone in the treatment of disruptive behavioral symptoms in children with autistic and other pervasive developmental disorders. Pediatrics. 2004;114:e634–e641. Abstract.
Komossa, K., C. Rummel-Kluge, et al. (2011). "Risperidone versus other atypical antipsychotics for schizophrenia." Cochrane Database Syst Rev(1): CD006626. Abstract
Biederman, J., P. Hammerness, et al. (2008). "Risperidone treatment for ADHD in children and adolescents with bipolar disorder." Neuropsychiatr Dis Treat 4(1): 203-207. Abstract
Canitano, R. and V. Scandurra (2008). "Risperidone in the treatment of behavioral disorders associated with autism in children and adolescents." Neuropsychiatr Dis Treat 4(4): 723-730. Abstract
Bishop, J. R. and M. N. Pavuluri (2008). "Review of risperidone for the treatment of pediatric and adolescent bipolar disorder and schizophrenia." Neuropsychiatr Dis Treat 4(1): 55-68. Abstract
Miller, R. (2009). "Mechanisms of action of antipsychotic drugs of different classes, refractoriness to therapeutic effects of classical neuroleptics, and individual variation in sensitivity to their actions: Part I." Curr Neuropharmacol 7(4): 302-314. Abstract
Aman MG., Hollway JA., Leone S., et al. Effects of risperidone on cognitive-motor performance and motor movements in chronically medicated children. Res Dev Disabil. 2009;30:386–396. Abstract.
Desousa, A. (2010). "An Open-label Trial of Risperidone and Fluoxetine in Children with Autistic Disorder." Indian J Psychol Med 32(1): 17-21. Abstract
Doyle, C. A. and C. J. McDougle (2012). "Pharmacologic treatments for the behavioral symptoms associated with autism spectrum disorders across the lifespan." Dialogues Clin Neurosci 14(3): 263-279. Abstract
Dove, D., Z. Warren, et al. (2012). "Medications for adolescents and young adults with autism spectrum disorders: a systematic review." Pediatrics 130(4): 717-726. Abstract
Disclaimer: We gathered medicine details over the net, We do not guarantee accuracy. We do not represent any pharmaceutical company nor we have any copyrights on the drug. You must consult a doctor or associated healthcare professional. You must verify on your own.